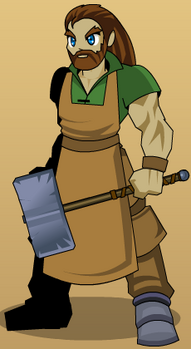 Description: "Greetings Adventurer, and welcome to my Inn. Our town has sure been attracting a lot of visitors recently! If you find yourself in need of a blace to stay while you visit, or are looking to purchase some new weapons or armor, then this is the place you want to be!"
Location: The Inn in Battleon.
Shop:
See Yulgar's Shop
He also makes Enhancements to Designs to turn them into usable items or on weapons to make them stronger.
Quests:
If you're looking for new weapons, I've run into a bit of a problem. General Porkon at his Hork Fort sold me a shipment of substandard ore, and It's not usable for weapons. If you want Pots? Fine. But a sword? Nope. He says that no Adventurer has ever beat him - Go over there and show him he's wrong! Then bring me back his pride...I'll be out the ore, but that'll go a long way to making me feel better. (Return to Yulgar in the Battleon Inn with Porkon's Pride.)
Items required: Porkon's Pride x1
Well met, Adventurer! I need some very special things to forge a weapon that I've been working on for some time. Zorbak has been hoarding the miniature Skulls that I need to forge the blade of the Bone Sword. If you bring me 8 small skulls, I'll reward you with the Bone Sword. (Get Small Skulls from Zorbak in Battleon for doing his Quests. Bring 8 to Yulgar in the Battleon Inn.)
Items required:Small Skull x8
Well met adventurer! Looking for some work? The inn basement needs a little cleaning before the Swordhaven health inspector gets here. Bring me 8 rat ears to prove that the basement is clear and I will give you a nice tip. Lets keep this on the down low, alright? (Return to Yulgar in the Battleon Inn with the Rats Ears.)
Items required: Rat Ear x8
Rewards: 100 gold, 100 xp