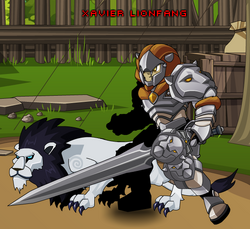 Xavier Lionfang is a character in AdventureQuest Worlds.
History
Xavier Lionfang is the younger brother of Maximillian Lionfang. Maximillian Lionfang and Xavier Lionfang were raised by their father Darius Lionfang who served for many years as a knight under King Slugwrath before joining General Alteon's rebellion and becoming a key player in the overthrow of the tyrannical king. Darius raised his boys to believe that you should stand up to evil wherever you meet it. In the early years of King Alteon's reign Maxmillian and Xavier both signed up as recruits under the good king but Maximillian rose quickly through the ranks by making a name for himself as someone who could get things done. When Darius Lionfang was slain by Noxus, Xavier Lionfang left the military to seek revenge for his father's death.
Following Maximillian's incarceration, Xavier started to believe his brother's beliefs on the truce and plans to usurp King Alteon with the help of some Traitor Knights. When Xavier's men had captured Rolith and the knights that were loyal to King Alteon, the players and Alina worked together to infiltrate Xavier Lionfang's camp in the woods near Swordhaven. While Alina freed Rolith, the players fought Xavier Lionfang and his pet lion Silverclaw. The players defeat Xavier Lionfang and Silverclaw who were then remanded to Swordhaven's dungeon.
Stats
Location: Poison Forest
Level: 60
HP: 6,923
MP: 100
Drops
Lionfang's Will

Lionfang's Silver Blade

Xavier

Lionfang's Whip

(NEW)

Xavier

Lionfang Armor

-- Member Only AC --(NEW)

Xavier

Lionfang's Helm

-- Member Only AC --(NEW)

Xavier

Lionfang's Cape

-- Member Only AC --(NEW)

Silverclaw Battlepet

Undead Potion of Hate