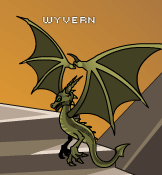 Wyvern is a monster in AdventureQuest Worlds.
Stats
Level 8
Level 25
Location: Northpointe City
Level: 25
HP: 3,768
MP: 100
Level 50
Location: Northpoint City
Level: 50
HP: 17,358
MP: 100
Drops
Level 9
Level 25
Level 50
Trivia
The Wyverns at Northpointe City are recolored monster versions of the

Battle Wyvern

pet. The Level 50 versions are found in the buildings in Northpointe City.
See Also