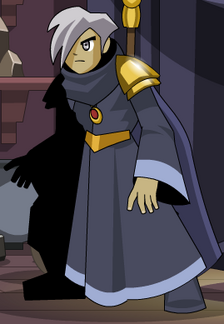 Warlic is a character in AdventureQuest Worlds.
History
Warlic is a powerful mage, who owns Battleon's magic shop. He sells a variety of armor, helms, capes, and a handful of weapons.
AdventureQuest Worlds: Zombies
In the alternate timeline caused by Drakath, Warlic has become infected by the zombies transforming him into Zombie Warlic after Sepulchure destroyed Death which resulted in the recently deceased to return to life as Zombies that obey Sepulchure's every command. Warlic led the Zombies and the Zombie Knights into attacking Mythsong Canyon.
Important Text
"Welcome to my Magic Shop! There are a few items here that you can buy now, but more are on the way. In the meantime, help me on my quests to unravel the secrets of the Universe!"