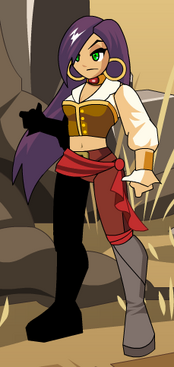 Description: "Hi, there traveler! Welcome! You seem like a brave adventurer that knows a good deal when you see one. Come on in and see all the bargains I have in store for you! I'm very sure you will find something perfect for your adventures. You are going to be glad you came."
Location: In the middle of battleon.
Shops:
See Valencia's AC Shop & Valencia's Season Shop.
Quests:
Available to Everyone:
Description: "I love to collect rare things! Battle the monsters in Guru Forest, the Graveyard and in Lolosia to recover the 6 Jewels of Zanteria: Red, Blue, Green, Clear, Yellow and Purple! Bring 1 of each to me and I will construct a Bejeweled Blade just for you!"

Member-only Quest available