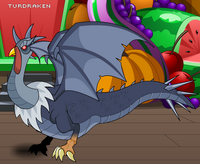 Turdraken is a monster in AdventureQuest Worlds.
History
The Turdraken is a monster that is a hybrid of a Turkey, a Dragon, and a Chicken. It was Oishii's idea of cooking a chicken within a dragon within a turkey.
Stats
Drops
Trivia
The Turdraken is Lore's version of the Turducken with the dragon substituting for the duck.
See also