Escherion's Chaos Staff, You need to destroy it to attack Escherion.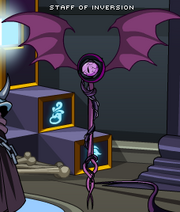 HP: 15,000
When you attack Escherion he uses a shield, You need to destroy the staff to disable the shield. It respawns 12 seconds after it's death.
The staff drops
1st Lord Of Chaos Staff
Staff Of Inversion
Notes
An effective way to get The 1st Lord Of Chaos staff or the Staff of Inversion, is to only attack the staff as it drops both of them and it's easy to kill.