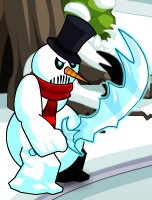 Snow Golem is the name of two different monsters in AdventureQuest Worlds.
History
Snow Golem #1
The first Snow Golems have snowman-like appearances and wield Ice Sabres. These Snow Golems reside in Frostvale.
Snow Golem #2
The second Snow Golems are made out of snow. Some Snow Golems work for Queen Aisha.
Stats
Snow Golem #1
Snow Golem #2
Location: Guwio Village,

Ice Volcano

,

Mount Frost

,

Northlands Forest

,

Old King Coal (Location)

,

Snow Globe

Level: 15
HP: 2,260
MP: 100
Drops
Snow Golem #1
Snow Golem #2
Ice Vapor
Snow Golem (Armor)
Snow Golem Morph