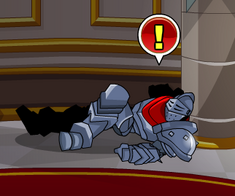 Description: Sir Pent is a knight in Swordhaven.
"<Hisses> Ssssssssorry. I could not stop him! Sepulchure is heading for the Kingsss throne room! Sssssooo powerful. He had his laughing undead minion Chuckles with him too!"
Trivia
Sir Pent's name (like all the other names of Swordhaven's knights) came from the word Serpent.
When Sir Pent talks, he commonly accents words that end with s with a hiss.