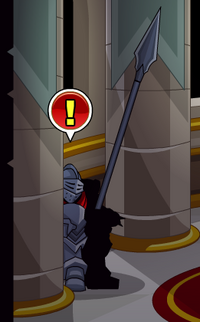 Description: Sir Loin is a knight in Swordhaven.
"Holy cow do we need to beef up our defenses. A loooong time ago, Sepulchure was King Alteon's greatest Knight. He knew the place inside and out before he attacked... We never stood a chance!"
Trivia
Sir Loin's name (like all the other names of Swordhaven's knights) came from sirloin(duh...),the term used for a cut of beef. Like Sir Pent, this affects how he talks and he uses terms like "Holy cow!" and "We sure need to beef up ourdefenses!" often.