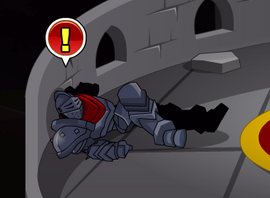 Description: Sir Junn is a knight in Swordhaven.
"Ouch, my head! Is there a doctor in the house? Oh wait... I am a doctor. Not even my healing can cure a cut from Sepulchure's Doom Weapon, though."
Trivia
Sir Junn's name is a play on the word "Surgeon", as he happens to be a Doctor, but he is not strong enough in the skill to heal himself during Sepulchure's final attack on Swordhaven.