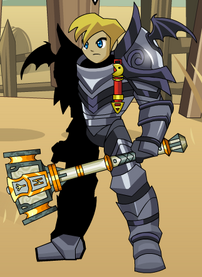 Rolith is a character in AdventureQuest Worlds.
History
Rolith is the NPC for Noobshire and the Captain of the Pactagonal Knights. Most players go to this location to learn the ropes and as such his quests are extremelely easy.
Rolith was later captured by Traitor Knights that work for Maximilian Lionfang's brother Xavier Lionfang. The players and Alina rescue Rolith and defeat Xavier Lionfang. Afterwards, Rolith proposes to Alina.
AdventureQuest Worlds: Zombies
In the alternate timeline caused by Drakath, Rolith heads of a resistance against Sepulchure after he has killed King Alteon and destroyed Death enough to cause everyone that has previously died to return as zombies that obey Sepulchure's every command. Rolith later becomes affected by the zombifying mist unleashed by Sepulchure transforming Rolith into Zombie Rolith.
Quests