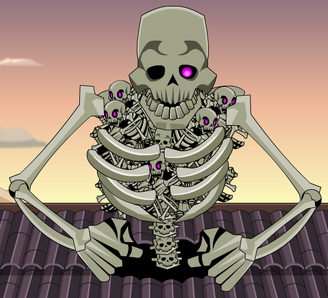 The O-Dokuro is the fourth Chaos Beast in AdventureQuest Worlds.
Bio
The O-Dokuro is a legendary forbidden Yokai that had been sealed within the Rift of Time for many years. When Kitsune stole the Hanzamune Dragon Koi Blade from Princess Ai No Miko, he used it to open the rift, releasing the O-Dokuro, just as Drakath convinced him in saying that it was the "only way to restore Yokai Island back to its former secluded sanctuary". According to Hashi Hime, the sheer power and terror that came from summoning the O-Dokuro would make even Emperor Daisho bow to Kitsune once more. In fact, the O-Dokuro is so powerful that it is uncontrollable even by a Chaos Lord. The players manage to defeat it for the first time, severing its head in the process. To keep the O-Dokuro alive and on the attack, Kitsune stuck the Hanzamune Sword into its forehead. The players then had to fight their way past millions of Yokai to reach the O-Dokuro's disembodied head. Afterwards, the players fought and defeated the O-Dokuro's head and retrieved the sword to use it to close the rift that Kitsune had opened to allow millions of Yokai to flood Yokai Island back up.
Stats
O-Dokuro
O-Dokuro's Head
Location: Yokai War in Yokai Island
Level: 20 (Ver. 0.85), 19 (Ver. 1.0)
HP: 20,000 (Ver. 0.85), 24,455 (Ver. 1.0)
Drops
O-Dokuro
O-Dokuro's Head
Community content is available under
CC-BY-SA
unless otherwise noted.