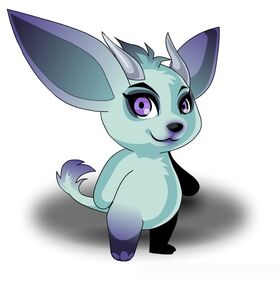 Memet is a character in AdventureQuest Worlds.
History
Memet is cute and cuddly on the inside and out! Memet is not actually a Moglin, however—she is a Baku, a dream creature who changes her shape to suit her needs. Memet usually appears as a Moglin because she's found that people are very friendly and helpful to her in that form… because her real form is much more frightening!
Important Text
At Artist Alley
Hi, I'm Memet. I might be a nightmare, but it's not so scary if I look like a moglin, right? No one wants to talk to me when I'm scary - how boring.
I draw stuff. Armors, weapons, pets, Brutalcorn… moglin paws are just the right size to draw it all. That's why I'm a moglin, you know. Moglins are also good at writing quests and cutscenes, so sometimes I do that stuff, too.
Birthday
Hi! In case you didn't know, it's my birthday - which is really just an arbitrarily chosen date, since nightmares aren't actually born. I made some cool stuff as a birthday present to myself, and since you're here I'll share it with you too!
I have a friend who's deathly afraid of dolls. Something about their dead, soulless eyes? Anyway, he had a yummy dream about life-sized dolls that move on their own, and it gave me an idea for this set.
Ultra Brutalcorn
Y'know…lots of people would think it's gloomy in here. Not me! Lights always shine brighter in darkness, y'know? Besides, invaders NEVER usually look in here… until THIS one!
Pet Description
Eats nightmares. Keep in a basket next to your bed. Only feed after midnight. Do not get wet.