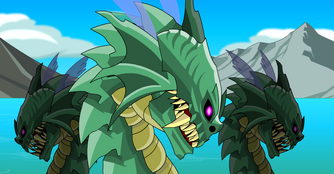 The Lake Hydra is a monster in AdventureQuest Worlds.
History
The Lake Hydra is a multi-headed monster that is the first of the Chaos Beasts. It was imprisoned within a lake near Mobius until it was released by Escherion using the Runix Cube. When one head was defeated, another head took it's place. The players managed to defeat the Lake Hydra by using it's fangs to break the rocks holding up Escherion's tower. Thus, the tower crushed it.
Stats
Level: 10
Location: Hydra Lake in Chiral Valley
HP: 2,445
MP: 100
Drops
See also
Gallery
Community content is available under
CC-BY-SA
unless otherwise noted.