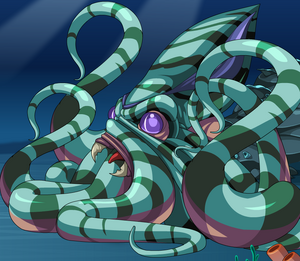 Kathool Atchoo is the tenth Beast of Chaos.
History
Kathool is a giant squid-like monster that rested at the bottom of the sea areas of The Span, awakening upon the defeat of the three Proto-Chaos Beasts Carnax, Fluffy the Dracolich & the Dragonoid. The beast was later defeated by the players, exchanging some words to them remarking that they would later meet again. After Iadoa's defeat, a vision of Kathool appears to voice some final words.
Stats
Kathool (Version 1)
NOTE: When he casts Mind Twist, he can regenerate his health until the shield created by him is broken.
Kathool (Version 2)
Location: Chaos Gauntlet
Level: 50
HP: 65,615
MP: 100
Kathool (Level 35)
Drops
Kathool (Version 1)
Kathool (Version 2)
Kathool (Level 35)
Chest Plate
Void Cape
Void Energy x1-15
Void Helm
Void Manipulation Staff
Void Ore
Void Piercer Blade
Void Slicer Daggers
Gallery
Trivia
He is the first Chaos Beast to be capable of speech with the second being The Eternal Dragon of Time.
His full name is Kathool Atchoo.
He first appeared in MechQuest.
He is so far the only Chaos Beast not killed by The Hero.
See also
Community content is available under
CC-BY-SA
unless otherwise noted.