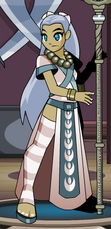 Description: "Hello, dear Adventurer. If you choose train with me as a Healer, you will learn how to harness the art of white magic and master the healing arts. You will be able to repaid damage done to yourself and others, and even learn to protect others form taking the full extent of an attack's damage."
Location: Battleon (/join trainers)
Quests:
"A healer needs to know the right ingredients to create powerful healing spell. Go into Sword Haven and gather some Slime goo, then go to the Farm and collect hay from Scarecrows. Bring me back the ingredients so that I will have them to use. "
Rewards: 100 gold, 100 xp, 100 rep(If healer equipped)
"The strength of a wizard comes from his Staff.. A good staff can serve its master to conjure quick and accurate spells on the other hand a bad one can not even cast spells at all. Search for the finest ingredients and create your perfect staff. Get 1 Ferocious Wood from the Treant at the Farm and 1 Purple Gem from the Purple slime in the Cellar of the inn!"
Items required: Ferocious Wood x1, Purple Gem x1
Rewards: 100 gold, 100 xp, 150 rep(If healer equipped)
"Requires Healer Class, Rank 3. As a healer you must be first and foremost a protector of your life and the lives of those who adventure with you. Go to Eastman's garden (in Willow Creek) and collect 6 snail shells so that we may study one of the best-protected creatures in nature. AgeOfArmorWiki 4:10, 11 March 2009 (UTC)"
Items required: Snail Shells x6
Rewards: 200 gold, 200 xp, 200 rep(If healer equipped)
Your Brilliance is astonishing! I can see the potential in you. Let us keep finding the light so we can reach others and heko this world in chaos. The source of evil is starting to make it's presence felt in Bludrut Keep. We as healers need to do our part in the struggle against evil, and at the same time learn all we can from it. Go into the depths of Bludrut Keep and bring light into the darkness. As I study their essence, I learn more about the evil that we face...but I need many specimens to learn as much as I can. (Bring back 5 rock essences and 5 fire essences to complete the quest.)
Items required:

Rock essence

x5,

Fire essence

x5