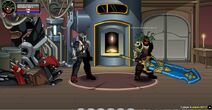 J6 is a bounty hunter,a monster, and a vendor D.Y.K.(Do You Know) why i said vendor cause everytime you complete his missions you'll unlock some items in his locked shop.you must know the combination.J6 is the with the helm on(LEFT).
Location
Drops
Cant be killed.can be killed by only with the thief of hours class
NOTE (REALLY IMPORTANT)
When you have necro class or any class that is strong u cant still kill him one shot from him youre dead only thief of hours rank 10 might be a good choice.