(4 intermediate revisions by 2 users not shown)
Line 1:
Line 1:
−

[[File:Saloon_9.jpg|thumb|left|212px|J6 is the one with the helm on.]]

+

[[File:Saloon_9.jpg|thumb|left|212px|J6 is the one with the helm on.]]

 
+

==Locations==

−

J6 is a bounty hunter,a monster, and a vendor D.Y.K.(Do You Know) why i said vendor cause everytime you complete his missions you'll unlock some items in his locked shop.you must know the combination.J6 is the with the helm on(LEFT).

 
−

==Location==

 
 
 
 

* SALOON

 

* SALOON

−
 
 

* HYPERIUM

 

* HYPERIUM

 

* HYPERSPACE

 

* HYPERSPACE

Line 15:
Line 13:
 

==Drops==

 

==Drops==

 
 
−

Cant be killed.Can be killed by only with the thief of hours class,but it only drops treasure chests.

+

be killed by the thief of hours class, only .

−
 
−

==NOTE (REALLY IMPORTANT)==

 
−

* When you have necro class or any class that is strong u cant still kill him one shot from him youre dead only thief of hours rank 10 might be a good choice.

 
 
 
 
+

==Notes==

−

* J6's only drop is treasure chest so don't even bother fighting him it has no point.

 
 
+

* The only way to kill him is by killing him in one attack, the thief of hours class is the only class cabable of doing this.

 

* Note his armor is called J6 Wstion-Outfit.

 

* Note his armor is called J6 Wstion-Outfit.

 

[[Category:Boss Monsters]]

 

[[Category:Boss Monsters]]

 

[[Category:Equipment]]

 

[[Category:Equipment]]

 
+

[[Category:Artist]]
---
Latest revision as of 22:16, 27 July 2018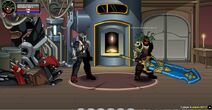 J6 is a bounty hunter,a monster, and a vendor D.Y.K.(Do You Know) why i said vendor cause everytime you complete his missions you'll unlock some items in his locked shop.you must know the combination.J6 is the with the helm on(LEFT).
Locations
SALOON
HYPERIUM
HYPERSPACE
UNDERGROUND LAB (Rare)
ALLEY
STREAM (Rare)
J6'S WEDDING (Rare)
BATTLEON (Rare)
Drops
J6 can only be killed by the thief of hours class, his only drop is Treasure Chests, because all monsters drop them by default. Has a 0.5% chance to drop Necrotic Sword Of Doom.
Notes
The only way to kill him is by killing him in one attack, the thief of hours class is the only class cabable of doing this.
Note his armor is called J6 Wstion-Outfit.