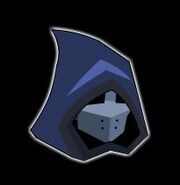 Description: "A cowled, iron mask - for those people who REALLY want to hide what they look like."
How to acquire: Can be bought from Blacksmith (Swordhaven) for 5,000 gold. Can also be bought from the Rogue Trainer in Battleon for the same amount of gold.
Sell Value: 1250 gold.