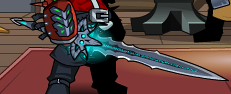 Description: "Unwraps to reveal... a ice forged blade made of frozen souls."
How to acquire: Opened from the Giftbox at midnight 31st December 2008.
Sell Value: 0 gold.
Type: Sword
Level / Damage:

Re'ferance:
The blade resembles the sword "Frostmourne". The sword of the Lich King in the Warcraft series and in World of Warcaft.