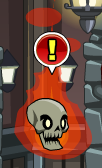 Description: "What is that sound? Do mortal footsteps once again disturb the quiet of Bludrut Keep? Perhaps my eternal torment will soon be at an end! For you see, I was once and adventurer like yourself, on a quest for the fabled Bludrut Sword. Alas, I ran afoul of the horrible Fire Elemental who guards this dungeon, and was cursed to burn for all eternity... or at least until could find some brave soul to help me lift the curse!"
Quests:
y 15 of them and bring me their essencess, I will know you are worth and will grant you access to the creature who cursed me. (Bring back 15 Fire Essences to complete this quest)"
Items required: 15 Fire Essence
Rewards: 110 gold, 110 xp
"I still remember the final moments of my life. As the Fire Elemental loomed over me to administer his terrible curse, my eyes were drawn to a luminous bracelet on his wrist. The way it glowed and shone in the darkness... I'm SURE that it must be the source of his power, and the key to breaking my curse. If you can defeat him and bring it to me, I'm sure I can end my fiery torment once and for all. (Bring back the Fire Bracelet to complete this quest)"
Items required: 1 Fire Bracelet
Rewards: 160 gold, 160 xp