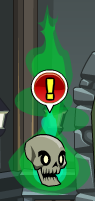 Description: "Welcome, Stronger! Wait... don't run away; I may be a ghost, but I need you help! You see, I was once a mortal like yourself, and I came here seeking the ultimate treasure: the fabled Bludrut Keep Sword! But as I was exploring the Keep, a vicious creature lured me into a trap, and I was cursed for all eternity... or at leastm until I could find someone who could help me lift the curse! The creature was a horrendous beast: a gigantic Elemental composed entirely of rock!"
Location: Bludrut Keep 1st floor.
Quests:
"I have been waiting eternity for someone to help me and restore peace to my troubled soul. You may very well be that person, but I will need to test you to be sure. As you explore, you will notice many undead creatures known as Rattlebones wandering the halls; like me, they have been denied the bliss of eternal rest. If you can kill 10 of these creatures and bring me their essences I will be assured of your ability to help me, and I will grant you access to my slayer's lair.(Bring back 10 Rock Essence to complete this quest)"
Items required: 10 Rock Essence
Rewards: 100 gold, 100 xp
"Before I died, as the Rock Elemental prepared to curse my soul for all eternity, I noticed a bright flash of light. I looked closer, and noticed a luminous glowing bracelet dangling from the wrist of the creature. This bracelet is obviously the source of his power; if you can defeat him and bring it back to me I am sure I can finally break this horrendous curse. (Bring back the Rock Bracelet to complete this quest)"
Items required: 1 Rock Bracelet
Rewards: 150 gold, 150 xp