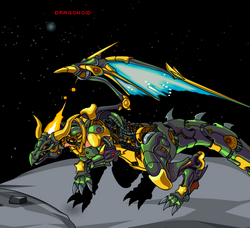 The Dragonoid is the third and last of the three Proto-Chaos Beasts.
History
The Dragonoid serves as the last part of the players' MQ Lesson. Its defeat, along with that of Carnax and Fluffy the Dracolich, serves to awaken the ninth Chaos Beast, Kathool.
Stats
Location:

MQ Lesson

at

The Span

Level: 50
HP: 84,918
MP: 100
Drops
Crystal Hammer

-- Member Only --

Galacti Helm

Galactic Mech

Rocket on your Back
Trivia
The Dragonoid's full name is the Crystal Dragonoid and it first appeared in MechQuest.
The Dragonoid's real name is Kratos (which was revealed in MechQuest, but is not given to it in AdventureQuest Worlds).