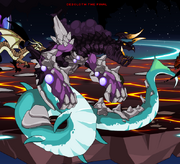 Desoloth is a monster in AdventureQuest Worlds.
History
Desoloth is a great elemental dragon who had been sealed away on the Dragon Plane by the Prime Elemental Dragons Moganth, Udaroth, Cellot, and Zellare where he remained for 800 years.
800 years later, Desoloth's Dravix follower X'Dir tricked the players into taking out the Prime Elemental Dragons and releasing Desoloth upon bringing them through the 11-11-11 portal. The players learn that they were tricked and fight Desoloth. Despite defeating Desoloth, he escapes from the 11-11-11 portal so that he can feed on the elements where he heads straight to Etherstorm Wastes.
Arriving in Etherstorm Wastes, the players work with the othe Dravix Priests to hatch four new Elemental Dragons to help fight Desoloth. Desoloth had the Dravix Priest As'iiur to his side in exchange for sparing the Air Dragons. Following As'iiur's failure, Desoloth killed him. When X'Dir managed to capture Galanoth, he fought Desoloth which ended with Desoloth biting off Galanoth's right arm. Before Desoloth can kill Galanoth, Warlic arrived and saved Galanoth. Following the hatchings, Desoloth abducted Arradia and turned it into it's crystallized form. The players managed to defeat Arradia and restore it to normal.
When it came to the confrontation between Desoloth, the lemur Omom of As'iiur's succesor An'gst was killed standing up to him. When the players fight Desoloth which ended in Desoloth's death, the Dravix Priests were displeased with the end result as An'gst asks if the players feel regret on slaying a dragon.
If the answer is yes, An'gst strips the players of the Power of Air and states that they have more work to do in Etherstorm Wastes.
If the answer is no, An'gst strips the players of the Power of Air, will not promise them protection from the other dragons, and state that they have more work to do in Etherstorm Wastes.
The Dravix Priests then seal away Desoloth's corpse in a purple seal until it was found by Xing and Xang. Drakath then unseals Desoloth's corpse and revives it as Desolich.
Stats
Desoloth
Location: Desoloth (location)
Level: 45
HP: 176,150
MP: 100
NOTE: Desoloth cannot be stunned.
Desoloth the Final
Location: Etherstorm War Desoloth, Etherstorm War Evil, Etherstorm War Good
Level: 45
HP: 176,150
MP: 100
Dragon Challenge
Location: Dragon Challenge
Level: 60
HP: 275,439
MP: 100
Drops
Desoloth
Dragontooth Ripper
Elemental Walker's Flame
Great Dragon Armor
LavaDragon Mace
Mask of the Great Dragon
Rip Tide
Scythe Of The Void
Zellare's Safeguard
Desoloth the Final
Dragon Challenge
Desoloth the Final's Soul (Dropped during the 'Hearts and Souls! (Member)' quest)
Treasure Chest
Community content is available under
CC-BY-SA
unless otherwise noted.