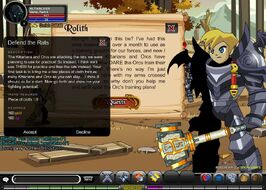 A Quest given by the NPC Rolith in Noobshire.
Quest Information
Description
The Kittarians and Orcs are attacking the rats we were planning to use for practice! So instead, I think we'll use THEM for practice and free the rats instead. Your first task is to bring me a few pieces of cloth from as many Kittarians and Orcs as you can slay... I think 8 should do for a start. Now go forth and show me your fighting potential!
Items Required
Rewards
Community content is available under
CC-BY-SA
unless otherwise noted.