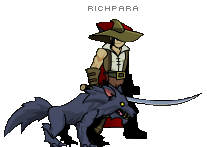 Description: "Wolf of the night"
How to acquire: Acquired by doing "The Bone?" quest in Willow Creek. It's the very last quest in the quest chain.
Sell Value: 150 gold.
Note: This was the only pet avaliable for free players, but it was later removed. The members only version is the Black Wolf.