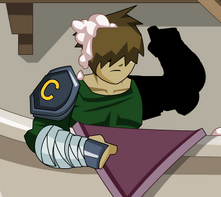 Cysero is a character in AdventureQuest Worlds.
History
Cysero is a mad weaponsmith who is often seen working with Warlic.
AdventureQuest Worlds: Zombies
In the alternate timeline caused by Drakath, Cysero has become infected by the zombies transforming him into Cyzerombie after Sepulchure destroyed Death which resulted in the recently deceased to return to life as Zombies that obey Sepulchure's every command. Cyzerombie and the Alina Zombie lead the Zombies and Zombie Knights to attack Arcangrove.
Quests:
Rubber Ducky: "Hiya, I'm Cysero and I'm in the bath with my clothes on. It saves me time doing laundry, and who doesn't enjoy a nice hot bath? It's a great way to wind down after a long, hard day of whatever it is that I do. There is only one thing that would make this better... Mr. Quackers, my dear rubber ducky. I must have left it in the Hork Fort when I was helping General Porkon move in. Could you go get him for me? (Return to Cysero in the Battleon Inn once you have found his Rubber Ducky)"

Items required: Rubber Ducky x1
Rewards: 100 gold, 100 xp
Community content is available under
CC-BY-SA
unless otherwise noted.