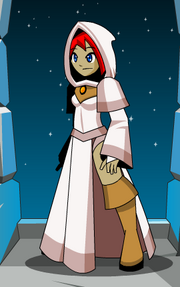 "Swordhaven is under attack by Sepulchure's army of the undead! You are the hero who saved the Princess right? Quickly... you must get to the castle!"
— Cleric Dawn
Cleric Dawn is a character in AdventureQuest Worlds.
History
Cleric Dawn is a cleric that is positioned in Swordhaven and is a member of the Sisterhood of Dishpan Hands.
Quests
Kings quest
Newbie training
Shop
See Newbie Shop