Description
Chuckles is the loyal minion of Sepulchure who was with him during Sepulchures raid on Swordhaven. He is an undead NPC and not much is known about him that even his name is not revealed in the cutscene King Alteon vs. Sepulchure. During the attack on Swordhaven, he was defeated by Drakath.However, if the player talked to Death to bring him back, Death will do so but he'll only be able to bring back the head.At the time when Noxus took over Shadowfall and the heroes were fighting his forces and Gravelyn's army (which he took control of), Gravelyn  mentioned to Noxus that she has one minion still loyal to her as Chuckles' head knocks Noxus off the throne. Gravelyn mentions that Chuckles was her first creation as Chuckles frees her. After Noxus was defeated by the heroes, Gravelyn removes Noxus's head and places Chuckles' head onto Noxus' body giving him a promotion.Gravelyn then gets bored waiting for the next chaos attack she tell tells chuckles (but you dont see him in his new body) to go summen the player to shadowfall where they must decide .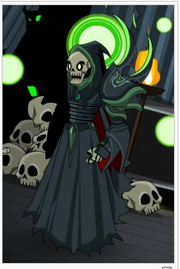 Community content is available under
CC-BY-SA
unless otherwise noted.